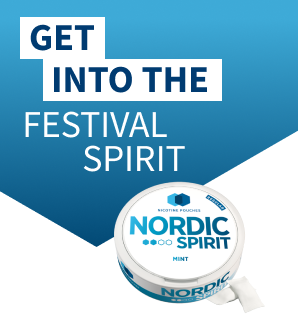 Nordic Spirit attended some of the biggest and best festivals up and down the country in 2023. Live music will be back with a bang in 2024. Keep an eye out for updates.
Nordic Spirit is the official nicotine pouch partner at some of the greatest UK festivals. Scroll down to see the festivals we attended in 2023.
Want to say hello in 2024? We will update you on our 2024 festival schedule as soon as we can. If you're lucky enough to be going to one, do come and see us.
Keep an eye on our social channels for news about where we'll be at each festival and for the chance to win tickets!
Follow Nordic Spirit on Instagram and Facebook.
#NORDICSPIRITMOMENTS
GET FESTIVAL READY
Explore our range of Nordic Spirit pouches. Hands-free, vapour-free and smoke-free, discover a completely new nicotine experience.
SHOP NOW